Had some spare time so have started work on Spring release, will need to work on finding a wallpaper and making minor changes to themes but this is what I have so far: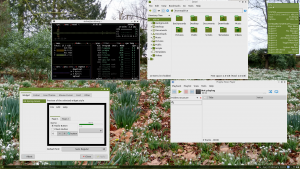 You may notice green background to conky, this is more down to background being busy. Am looking to change background image to get around this. Transparency will only work with a composite manager. Also the green colour may change too in line with a new background.
Couple of other minor change is autologin live in line with archiso. Also a soft link to allow Vim to work from openbox menu, now thinking I should remove desktop file so it does not show up. Will work on that one!
I may drop custom icons, although they look pretty space could be used better for a more useful application. If anyone has any suggestions on a useful addition live then drop me an email. No games or super massive office applications 😉
Not sharing this version yet as it still needs some work.
Stay safe where ever you are…..